I AM MOM-of an Eastside High Schooler this year and we're in the midst of "Wade Hampton Week"… for you older people, aka "Spirit Week!" Each of the high schools have selected a very worthy charity to be the recipients of this week's fundraising competition and OURS is Project Hope! Here's a link to their site www.projecthopesc.org
The week is FULL of activities that kicked off Saturday morning and will end with the Eastside-Wade Hampton football game this Friday night, where the winner of the competition will be announced! There are a few ways KDP is hoping to help raise money and YOU can be a part!
DEAL #1-Christmas Gift Certificates! The $50 deposit for this Christmas Gift Certificate will go directly to Project Hope via Eastside! The certificate is good for a regular  1 hour outdoor session in 2012 and balance of $50 is due at your session! This is $50 OFF the regular session fee! THE CATCH-and there's only 1-DEAL IS ONLY GOOD THROUGH THIS THURSDAY!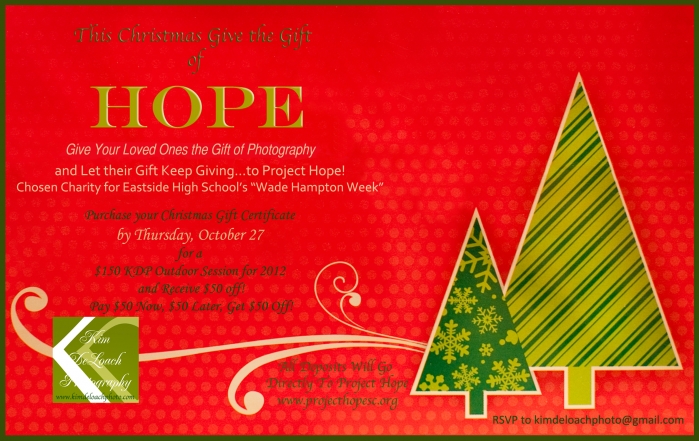 DEAL #2-This Wednesday morning only, I'm offering my first ever mini-minis! The entire session fee will go to Project Hope via Eastside! Email me IMMEDIATELY to grab your spot and I'll send you location info! kimdeloachphoto@gmail.com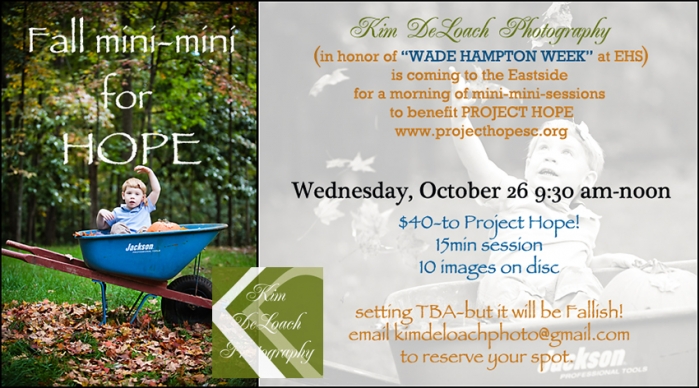 DON'T MISS OUT! Also, if neither of these opportunities interest you, you can just make a straight donation to them through their website via the link above!
GOOOOO EAGLES!!!!!!