Loss commands a holy hush. It's in such silence, void of this world's hum, we feel the weight of the words that best describe our humanness…fragile, flawed, immortal.
Loss abruptly yanks us off the track, where just moments before we were drafting with the rest, racing from one thing to the next. On the sidelines, in the stillness, the once subtle longing for more demands attention…more, something more, there's gotta be something more.
Loss invites hope. The best of here pales in comparison to what lies ahead for those who hope in Christ. I am filled with immeasurable gratitude that hope of eternal communion with the Father has defeated the despair of loss. We will dwell with him forever….there will be no more tears…Revelations 7.
Though our community family is stopped once again by loss, we are comforted by hope that God gifts to us. As we gathered yesterday and celebrated the life of William McCauley, the service was not focused on his prominent status as a Greenville builder, nor on his gifts of citizenship and generosity, nor on the respect granted to him by a community, nor the abundant love and loyalty of his family and friends-all the accolades deserved of a life well lived. Our celebration was one focused on hope of the life to come-the more that we are waiting for- for him, and for us when we meet up with him again. A holy hush…as we celebrate the poignant analogy of the Master Builder welcoming his child, William, "Billy", "Poppy",  into his new home that He prepared for him.
*****
Last November, months before the diagnosis of ALS, the family gathered for the Thanksgiving holiday. There were two little ones on the way so there had been some discussion about postponing the annual session. Then the scheduled  morning was misty and dreary, adding to argument of waiting…but in the end there was resolve to do it. Clarity of resolve often comes through hindsight, doesn't it?
I never blogged this session. (Friends and family get shafted too often!) This family is dear to many, including ours! I am beyond grateful for their generosity to me through the years as they have been cheerleaders for my business and have allowed me use of their amazing property for many many photo sessions.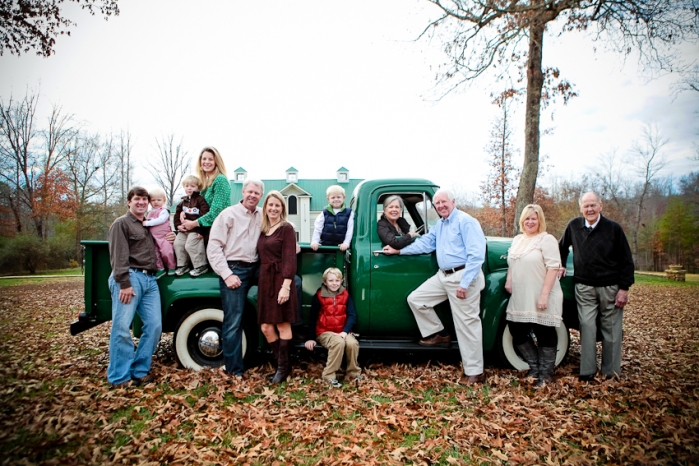 (Sims and Libby, you are in these photos in thoughts and prayers.)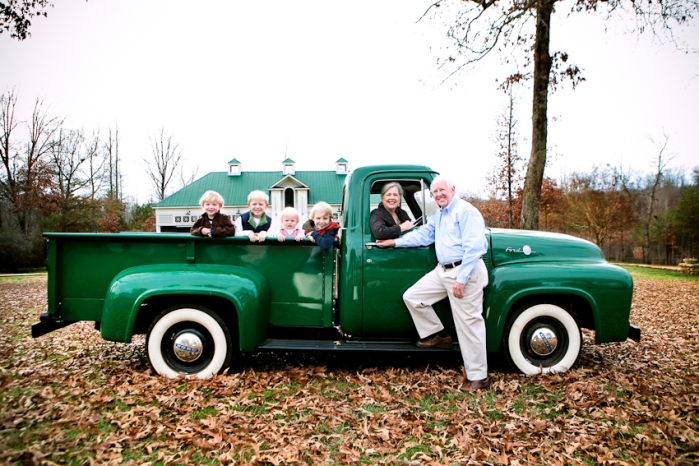 This was our "real life" pose…Iconic Poppy- driving his golf cart and with that huge smile that was largest when the grands are around!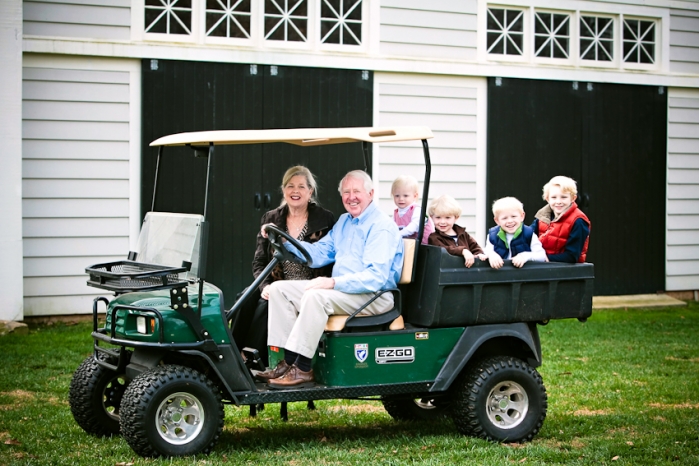 As I was looking at these images in my holy hush moments last night, I remembered that after the family session Amy and I worked on getting the 5 year old portrait of Mills we'd been talking about since last summer. We definitely wanted him on wheels of some sort and Poppy's green truck was a must as a backdrop. So everyone was dismissed (relieved) and went inside to warm up. But Poppy lingered. His generation mastered this fading art form. He just remained present and soaked it in. He had nothing "more important" demanding his attention-he just wanted to watch Mills. As we finished  he was still with us so I asked him to jump in this one and he complied graciously.
I almost don't have words…it's his prized truck, his gentle smile, embracing one of his spunky grandsons whom he adored…a perfect last shot…

Sir, you are greatly missed here.