The "Wedding Wednesday" wedding of the week is….Ours!
 HAPPY TWENTY YEARS to my best friend!!!
I thought it would be fun to post some of our wedding photos for the first time in cyber world.
So with permission from our wedding photographer, John Wrightenberry…here we are! (These are photos of photos that don't actually do them justice but you'll get the idea)
FYI-We both still think we look just like we did here…shhhh…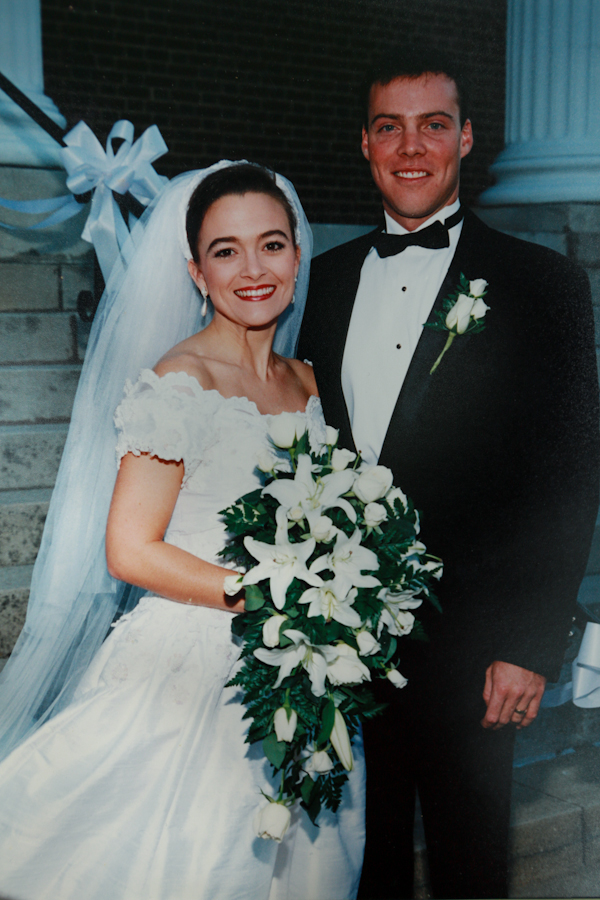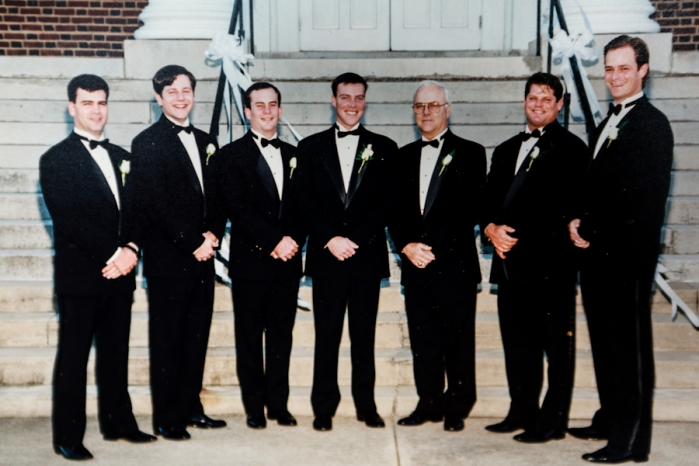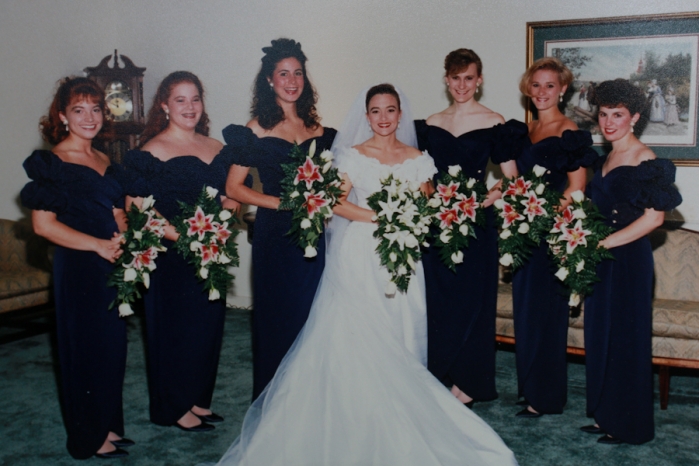 ?! (it was all me!)


Mike looks like he's up to something in half of our photos…





white hose…oh yeah

Geo came up with this garter-Susan I have no idea why it took him so long to find you!


The next series of shots was cutting edge in 1993! Just about as photojournalistic as anyone ever got back in the day!
and….though photography has changed a TON, some other things never change…

I just gave this purple dress to Goodwill on Pleasantburg this year-hurry you may find it!

About half way through our week in Montana we got all the birdseed out of our ears.

and just an added bonus…we were putting people in fields of straw way back in the day!

Mike and I just got back from lunch where he treated me to subs and I picked his brain for 20 years worth of wisdom to empart to you…
In no particular order here are some of our top thoughts because hindsight is 20/20 after all…
-Somebody has to touch the toilet lid!
-Toothpaste is cheap enough that everyone should have your own tube.
-"Don't go to sleep angry" sometimes leads to sleepless nights.
-The most important conversations seem to always happen after midnight.
-The bills are ours. The money is ours. The kids are ours. The victories are ours. The mess is ours. There is no Mine in Marriage.
-Marriage isn't designed to make me happy.
-Marriage is designed to shape me into the me Christ intends me to be.
-That our kids are like both of us is part of the refinement process, too.
-Never say anything bad about your spouse to your parents…just in case they hold a grudge longer than you will.
-Treat others the way you want to be treated…includes your spouse.
-Safeguarding your marriage is the weirdest thing our culture has ever seen.
-Comparison is the thief of joy (ok, yes, I apply this to everthing else also).
-God is our provider. of. all. we. need.
2 things Mike has learned about life from me…the world won't actually end if you show up late and closed drawers are overrated.
2 things I have learned about life from him…going slow doesn't actually kill you and yelling isn't fun if the other person is whispering.
And we have a few goals for the next era of this adventure…
1-Learn to Dance (mine) 2-Make time for get-aways for just the two of us (Mike's)
Some of the best things about this past twenty years include Lizzie and Walker, hardships and failures, grace and mercy!