I believe 2013 will go down in the books as the DIY year of the century for wedding planning!  The plethora of resources- including the ever fabulous Pinterest,  DIY blogs, etc.- have enlarged the sea of Creatives  to include YOU!
I started 2014 with one of the sweetest DIY weddings ever!  I was totally amazed at all they did to cut costs without sacrificing style one bit! I asked Bethany to share some of the coolest ways she and David were able to create a dream wedding "on a dime" so to speak. Bethany, thanks for taking time to be my guest writer for today!
***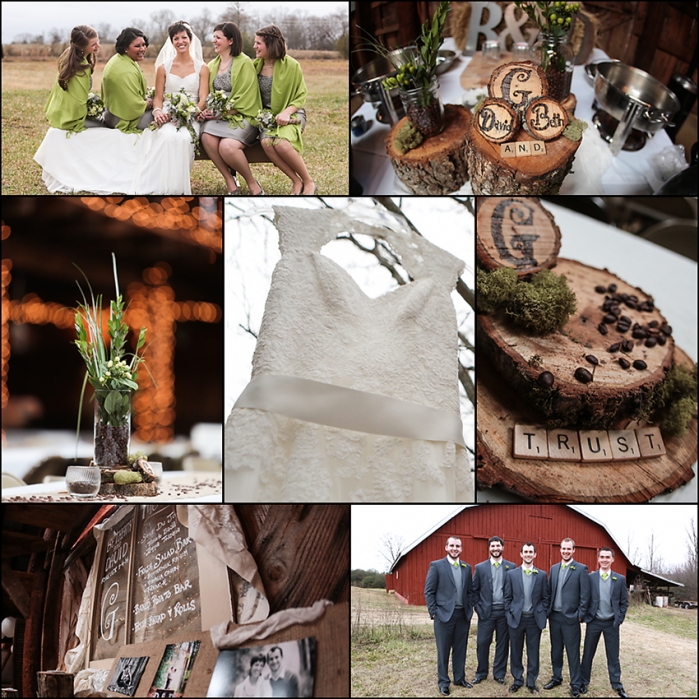 From Bethany:   The start to my "wedding planning" was hilariously before there was a ring or classic response "yes".
I was on a family vacation 2 weeks before David and I got engaged. I KNEW we were both committed and that there was going to be a proposal SOON I just didn't think it was going to be 2 weeks soon.
I've got a bargain finding family and we girls were "hunting" at the local thrift stores in VA. One particular store that was smelly, greasy, dirty and particularly unorganized my cousin pointed out a random wedding dress tucked behind several other crazy dresses. I casually peeked and the thought crossed my mind "I wonder what it would look like on"?
We left without another thought about the dress until I brought it up later to my sister – posing the same question I asked myself earlier.
She convinced me to go back and at least look at it further.
We trounced back in to examine the dress. Immaculate condition — couldn't find one thing wrong with it. It fit me perfectly and I couldn't believe how much all three of us there liked it. I was thoroughly embarrassed to buy a dress BEFORE being engaged, but the logical, bargain driven side couldn't resist such a deal!
We paid $49.
I found the same exact dress (2013 model) selling at David's Bridal for $600. Speechless!
Fast Forward 2 weeks!
I was now engaged – happy and excited! David and I had just bought a house and I was about to quite my job to plan our wedding and work on our new "project house".
I knew I wanted our wedding day to be special but I also knew we had a budget.
I didn't want to sacrifice what I've "dreamed of" or be held back worried about the finances, however we both agreed we didn't want to spend MORE than what we had.
Growing up with 9 brothers and sisters I know something of learning to be creative when you don't have alot (of money that is!

).
It was really important to me that the wedding reflected both David and I, as individuals and as a couple.
I started making lists and charts galore to figure out how everything could work.
Starting with the overwhelming guest list continuing to the possible venue resources it was extensive.
David and I decided on a number (budget) we felt was appropriate and that we could trust the Lord to provide the prefect fit for each area.
I already had a dress – Check!

The first official big project was wedding invitations.
I had done some design and publication work so I attempted to make our invitations.
 - Awesome photographer friend for invitation picture
 - local (way inexpensive) print shop to print out
 - 80+ (I lost count) hours to assemble (I chose a 3 step process … hole punching, wrapping and tying twine!)
 - Stamps (cost 4x the amount to buy then actual invitation!)
 - Done! (see Bethany's photo)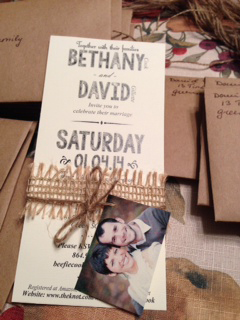 The next part is still a bit of a sore spot for some of my friends and family (other wise known as the slaves!). I decided to save by MAKING envelopes. This was a multi step process that did seem a bit over the top at times. I saved $43 by doing it this way… but was it worth it they still ask?
I wanted a certain look and style… and with help and ALOT of bargaining we accomplished what seemed impossible. 400 awesome looking (MAIL worthy!) envelopes! My friends and family ROCK — but I agree… it WAS alot of work!
Over the course of the next 2 months I talked with tons and tons of people trying to figure out where the best places to shop, venue options, caterers, flowers etc. etc.
I found coupons and waited for sale days (black Friday was awesome!).
There were times I had to compromise and ask the questions "how much is this worth". We made some hard cuts and said no to things that weren't as important or "special" to either of us.
At times it felt like there was so much that it would NEVER happen – but slowly each piece came together.
Everything I used for decorating was found at goodwill, the back yard, consignment, flee market, habitat for humanity OR awesome friends who let me borrow something!
We found our bridesmaids dresses and the guys suites on overtock.com at less than it cost to rent!
We used leftover scraps and pieces to create NEW inspirations and beauty!
We used leftover decorations from my other siblings and friends wedding and just made them personalized somehow.
We made practically everything ourselves. We spent hours wood-burning, making bunntings and the flower girls basket, flag bearer sign and headband for me to wear!
We saw the Lord provide in other ways too – like for example one of the venues. The barn we decided to have our wedding celebration was very very rustic and lacking the "luster" most wedding venues had. In perfect timing there was a bride that asked her Dad to re-wire the whole place so they could create an arbor-like structure of lights! They agreed to keep them these up for us to use at our day! It was so magical feeling.
The biggest splurge was photography. But it was so much more then just "wedding pictures" and worth it completely!  For me,  it was someone that could come in, deal with a crazy mess of people and capture our love story in a way that we would want it captured.  When the Lord brought Kim to us I knew she was the one!  We never looked back.  She captured our day in a way that we can experience and enjoy all the details (work!) and memories ever time we see the pictures!
My advice to you if you are planning a wedding on a budget -
Number one: Prioritize! Prioritize! Prioritize! If you have really strong feelings toward a certain aspect of your day, make it happen.  Other aspects may have to be scaled back to accommodate, but I promise you, you will not regret it.  And, honestly, no matter what, it's your special day, so it is going to be perfect regardless! Number two:  If you didn't notice, I enlisted the help of pretty much all of my family and friends. Don't be afraid to ask for help (Sometimes it may seem awkward to ask people for help, or feel like you might be putting them out, but, I found out some were chomping at the bit to be able to assist.)!
***
Thanks, Bethany! Stay tuned to see their DIY wedding here soon!