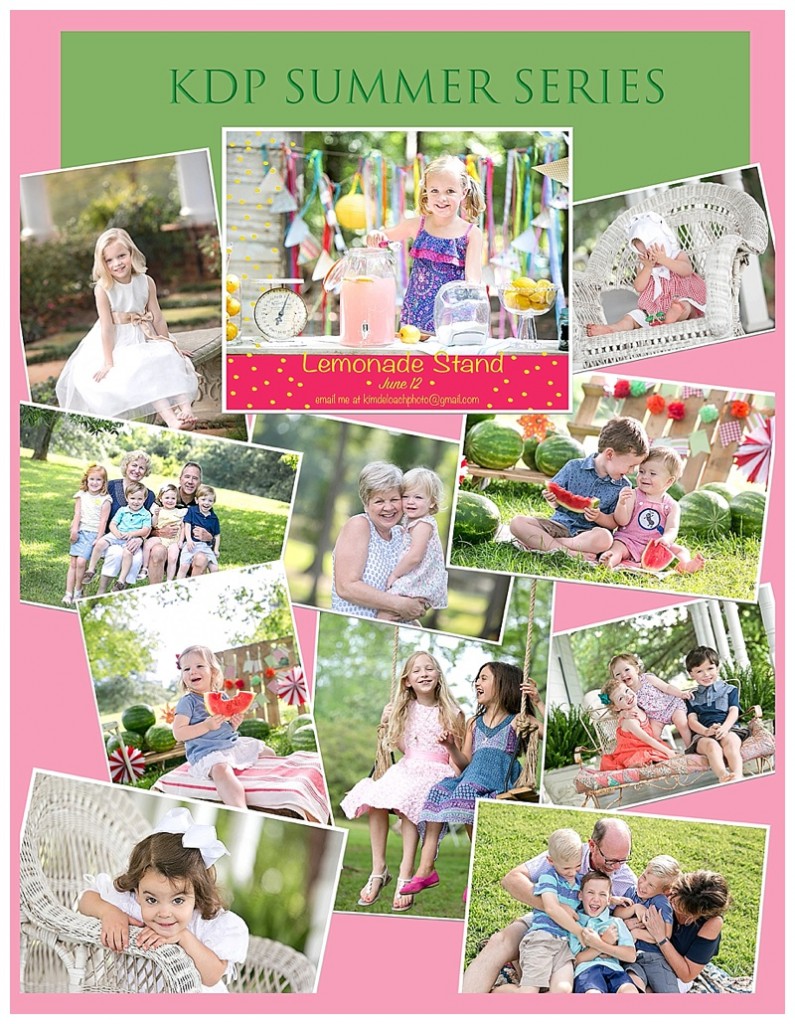 The Lemonade Stand! June 12! 116 Rolling Green Circle, under my favorite tree. This colorful interactive set will have your kids making their own lemonade and then enjoying a few minutes of tea party fun with pre-made, clean lemonade (; and a few treats. It's fun for them to bring a favorite doll or toy to tea party with! Limit 3 children per session. Best for ages 2-8 yrs. 
Summer Whites! June 26 and 27! 1951 Gibb Shoals at a gorgeous "southern plantation" looking property.  This will be a classic portraiture session-one of the most formal of the year. White dresses and outfits are optional. Pastels will be gorgeous as well! This session is great for the whole family or for a milestone birthday portrait.  Appropriate for all ages, though babies must be able to sit alone or with the help of an older sibling.
Watermelon Minis! July 16! Location TBA. This simple set is all about that yummy melon! I will have a melon patch and cut melon for your toddler to enjoy! This is a messy one so bring extra clothes! Ages 1 and up.
Porch Time! TBA 604 Blacks Rd. This setting is complete with white wicker chairs (or bring your own sentimental one) and ferns and maybe flowers- if I don't kill them by then!  (This is a less formal setting than Summer Whites.) Parent participation welcome! Appropriate for all ages, though babies must be able to sit alone or with the help of an older sibling or parent.
Flower Swing! Date and Location TBA. This will be a simple set with a wooden yard swing with flower wrapped ropes. I will also have flower crowns available upon request. While this is a more feminine setting, I do think a younger brother participating with his sister would be sweet. Ages 4 and up.  (If your younger toddler is still upon command (; we can discuss participation.)
#Tweens July 26 and 27!  Downtown Greer! These are ages that get left out so this summer I'm going to give them some time to shine! This downtown setting has a variety of looks, from grungy cool to park pretty.  I'll do group shots as well as individuals. Tweens have the option to change once-so 2 outfits! Ages 8-13 (we can fudge in either direction as requested.)  This session would be so much fun shared with a friend! 
And Last but not Least…
Grandparent Minis! June 1-July 31! Set your own date and location! This is one of our favorites!  Some weekend sessions will be available- first come first serve. You may add parents for an additional $50 per session.
EMAIL ME FOR YOUR SIGN UP!